MENU
All Items Are Built To Order
All of our bagels are homemade and baked fresh daily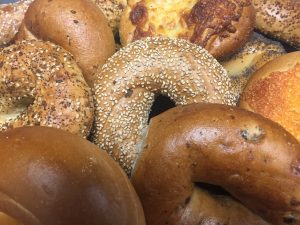 BREAKFAST SANDWICHES
Combine as many or as few of the breakfast items below. Breakfast sandwiches are served on any of the following:
BREAKFAST ITEMS
OMELETS: COOKED TO ORDER
We offer either a 3 egg or egg white omelet. You can add as many or as few of our breakfast items to your omelet. Each item is an additional charge. Omelets are cooked to order so please allow for a 10 minute cook time.
All of our flavored cream cheeses are homemade
Plain Cream Cheese
Flavored Cream Cheese
Butter or Margarine
Peanut Butter
Preserves (Strawberry/ Grape)
Plain Cream Cheese & Preserves
Butter & Preserves
Peanut Butter & Preserves
Nova Lox Spread