JT's Bagel Hut
We are committed to providing the absolute best quality to each and every one of our customers. We are family owned and operated for 13 years. Since our start, we have continued to grow while staying true to our original mission — to give you, the customer, a winning product and service that you can rely on. Our bagels are made from scratch and baked fresh every morning. Our coffee is roasted locally, to our specifications, and freshly ground to ensure that we provide you a superior cup of coffee. Our cream cheese spreads are hand made every day. Come in and try it for yourself. You will not be disappointed!
.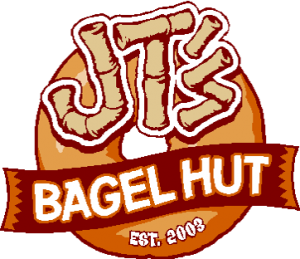 WHAT OUR CUSTOMERS ARE SAYING
"Nice good fresh selection of bagels and you can pretty much get any breakfast sandwich here-and quickly! The french toast bagel is THE BEST BAGEL ever. Toast it up with a scraping of butter! They have plenty of coffee choices too, as well as a nice selection of juices. The sitting area is convenient and clean especially given the high volume of patrons. If you are passing by the Forked River exit, get off and its less than a mile straight off the parkway – better than rest stop offerings! Especially enjoyed while sitting on the beach. Enjoy!"
– Dee M.
"We have found this location to have the best bagels in the area. Good selection of various bagel styles/types. Multiple choices of types of hot coffee. You can either use take out or sit down and enjoy your bagel and beverage at a table. Tends to get a bit crowded on weekend mornings. Staff is always pleasant and helpful.."
– James D
"Very consistent and always fresh bagels sometimes warm straight from the ovens because they can't keep the bins full enough.. the concept of getting your own bagels is great and the service is fast.. jts. Is a regular weekend stop before an excursion.!"
– John E